SPECIFICATIONS
Voltage: 110V 60Hz
System: Windows XP/Vista/7/8/10 (32& 64)
Repetition Accuracy: 0.0004INCH (0.01 mm)
Positioning: Manual
Paper Feed Width: 720 mm (28.3 inches)
Origin: Mainland China
Number of Pinch Rollers: 3
Motor Type: Stepper motor
Language: DM/PL, HP/GL
Interface: USB port
Driver: Signmaster
Cutting Width: 630 mm (24.8 inch)
Cutting Speed: 10-800 mm per second
Cutter Pressure: 10-500 g
Certification: CE
Cache Capacity: 16 MB
Brand Name: VEVOR
Blade Types: Standard, Roland Compatible, 2 mm Dia
Product Description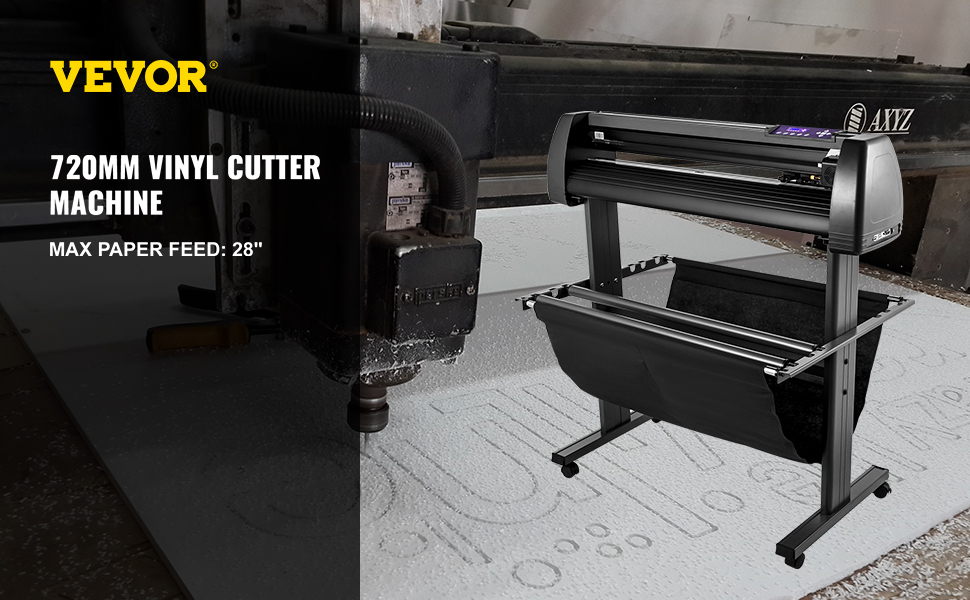 Features & Details
【

CUTTING CAPACITY

】

-

28-inch vinyl cutter with the maximum paper feed of 720 mm (28.3"), the maximum cutting width of 630 mm (24.8"), cutting precision of +/-0.01 mm (0.0004"), and paper feed precision of 3 m (118").

【

U-DISK OFFLINE OPERATION

】

- Support offline control and can be programmed directly by inserting U Disk. The vinyl machine adopts an ARM motherboard and 16 MB high-speed cache memory. Two double-spring pinch rollers and an aluminum knurling stick ensure that the paper feed will not deviate by long distance.

【

DIGITAL PRECISE CONTROL

】

- The plotter cutter vinyl comes with an illuminated LCD screen and a large control panel. With cutting pressure 10-500g adjustable, and cutting speed 10-800 mm/s adjustable.

【

HIGH COMPATIBILITY

】

- Available with COMPIM and USB interface for more precise control. Support DM/PL, HP/GL language. System: Pentium processor-based PC or compatible computer (Windows), Windows XP/VISTA/7/8/10 (32&64). NOT compatible with the Mac system.

【

VERSATILE USE

】

- It can cut sticker and decal vinyl, masking film for painting or etching, scrapbook papers, card stock, as well as various T-shirt heat transfer media like PU vinyl, flock, Magi Cut colored paper, etc.
Key Features



Digital LCD Display




The large backlight LCD screen provides a more intuitive display for the plotter cutter. Come with the digital panel for easy & simple settings and adjustments.




Trusted Performance




Equip with ARM motherboard and stepper motors, with 16 MB high-speed cache memory, and DM/PL, HP/GL language. Max paper feed: 720 mm (28.3"); max cutter width: 630 mm (24.8") and cutting accuracy: ± 0.0004" (0.01 mm).




Anti-deviation Design




Two adjustable double-spring pinch rollers, aluminum knurling stick, high precision pressing wheels, and scale line ensure the anti-deviation of paper feed by long distance.



Triple Ports to Connect




Connect the vinyl plotter through three available ports, COMPIM, USB & U-Disk. Support offline processing with USB disk and print directly without installing a printer driver.




Sturdy Floor Stand




Structure with heavy-duty sheet metal floor stand, featuring four rollers that can hold the paper. That makes it easy to carry it without effort.




Wide Application




This vinyl printer cutter machine can be used in the advertisement field, various decoration, handcraft, supplementary for heat transfer, label & sign making, etc.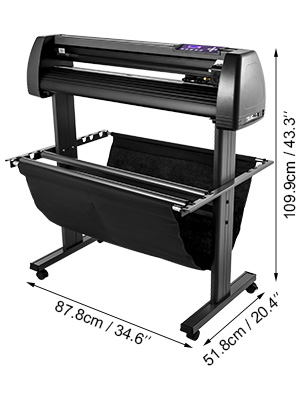 28-Inch Manual USB Offline Vinyl Cutter Plotter
This 28" professional vinyl cutting plotter with floor stand features an easy-to-use design and SIGNMASTER software. It allows you to cut professional customized designs and signs, giving you the ability to use your fonts, import custom artwork, and draw your personalized shapes! NOT compatible with IOS system.
Cutting Capacity

U-

disk Offline Operation

V-

Digital Precise Control

High Compatibility
Specifications
Max Paper Feed: 720 mm (28.3 inches)

Max Cutter Width: 630 mm (24.8 inch)

Cutter Pressure: 10-500 g

Cutting Speed: 10-800 mm per second

Memory: 16 MB

Repetition Accuracy: 0.0004" (0.01 mm)

Gross Weight: 45 lbs (20.41 kg)

Product Size: 87.8 x 51.8 x 109.9 cm (34.6" x 20.4" x 43.3")
Package Content
1 x 28 Inch Vinyl Cutter Plotter Machine

1 x SIGNMASTER Software

1 x Blades Holder

3 x Blades

1 x Pen Holder

3 x Cables (USB/Serial/Power Cord)

1 x USB Flash Disk

1 x User Manual

1 x Floor Stand Kit