SPECIFICATIONS
Use

:

Table

Type

:

Hairpin Table Legs

Type

:

Furniture Leg

Tube Thickness

:

0.0473 inch / 1.2 mm

Tube Diameter

:

0.39 inch / 10 mm

Table Leg Height

:

16/18/20/22/24/26/28/30/34/36/40"

Suitable for

:

end tables, sofa tables, wood benches, high chairs, bar tables

Product Weight(Each)

:

0.88/0.97/1.05/1.1/1.2/1.28/1.34/1.43/1.58/1.65/1.8 lbs

Origin

:

Mainland China

Mounting Plate

:

4.3x4.3 inch / 11x11 cm (L x W)

Metal Type

:

Carbon Steel

Material

:

Metal

Material

:

Carbon Steel

Load Capacity(Each)

:

220 lbs / 100 kg

Amount

:

4 PCs
Product Description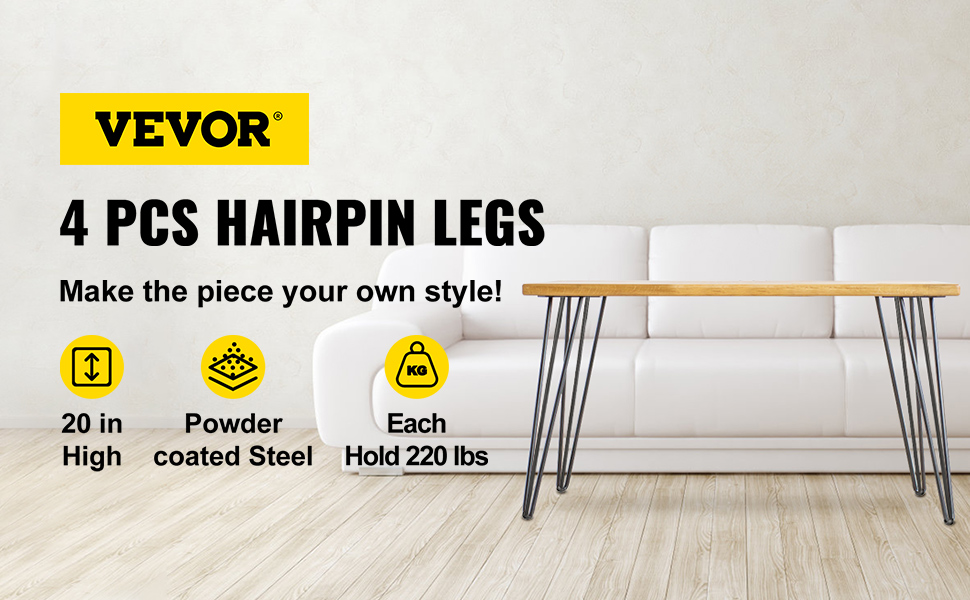 Features & Details
【PREMIUM QUALITY】- Amount: 4 PCs; Color: Black; Legs Height: 20"; Tube Thickness: 0.0473". The 20" hairpin table leg is constructed with carbon steel and features a steady three-rod design for stability. It is anti-rust & smooth on the surface with powder coating craft.

【HEAVY-DUTY CAPACITY】- Each of the desk legs 20 inches can hold Max. 220 lbs load. A set of four legs can stably support the tabletop and upper devices up to 880 lbs. It is heavy-duty and can form a robust table, bench, or chair.

【FLOOR PROTECTION DESIGN】- Four rubber covers will be included in the package. Use them to protect floors from scratches or as an added stabilizer for the furniture. Our dining table hairpin legs are wipe-clean with water, quite labor-saving.

【QUICK & SIMPLE INSTALL】- The 4.3"x4.3" mounting plate has four φ6 mm pre-drilled holes and matched screws. You can use an automatic screwdriver to fix the screws & legs into the wooden plate. So, the installation is quick and hassle-free for all skill levels!

【VERSATILE USE SCENARIOS】- Our black hairpin table legs are the perfect way to create a coffee table, end table, nightstand, bench, dining table, desk, chairs, etc. Give your furniture a sleek & modern rustic look.
Key Features



Carbon Steel Material




Our DIY table legs are made of upgrade carbon steel, which is high-strength and durable. The classic triangular rods design ensures its stability.





Large Load Bearing




Each of the hairpin desk legs is able to hold Max. 220 lbs load, which constitutes a very robust construction of the furniture table.





Four Rubber Feet




The metal legs kit includes four soft rubber feet to protect the floor. They can make the table more stable and reduce scratch on the surface.





Easy to Assemble




The mounting plate of each bench leg measures 4.3"x4.3"(L x W). As a DIY project, It comes with four pre-drilled holes(φ6 mm) and screws.





Fit for Table Bench




This desk leg kit is powder-coated with black color and designed with mid-century style. Install it with wood planks to add a classic atmosphere.





Wide Use Places




The metal table legs are suitable for end tables, sofa tables, wood benches, high chairs, bar tables. Make your room furniture stand out above other's.

16/18/20/22/24/26/28/30/34/36/40"
Hairpin Table Legs
This is a set of 4 hairpin table legs kit for desk, table, bench DIY works. It features classic hairpin rods and industrial style, which add stability and a modern atmosphere to the room decoration. It is easy to install and suitable for DIY fans, makers, and professionals.
Premium Quality

Heavy-Duty Capacity

Floor Protection Design

Quick & Simple Install
Specifications
Amount: 4 PCs

Table Leg Height: 16/18/20/22/24/26/28/30/34/36/40" (40.6/45.7/50.8/55.9/61/66/71.1/76.2/86.3/91.5/101.6 cm)

Material: Carbon Steel

Tube Thickness: 0.0473" / 1.2 mm

Tube Diameter: 0.39" / 10 mm


Load Capacity(Each): 100 lbs / 45.4 kg

Mounting Plate: 4.3x4.3" / 11x11 cm (L x W)

Product Weight(Each): 0.88/0.97/1.05/1.1/1.2/1.28/1.34/1.43/1.58/1.65/1.8 lbs (0.4/0.44/0.48/0.51/0.55/0.58/0.61/0.65/0.72/0.75/0.82 kg)

Package Content
4 x Hairpin Table Legs

4 x Rubber Floor Feet

1 x Screw Kit
| | | | | | |
| --- | --- | --- | --- | --- | --- |
| | | | | | |
| | | | | | |
| Amount | 4 | 4 | 4 | 4 | 4 |
| Table Leg Height | 16"/40.6 cm | 18"/45.7 cm | 20"/50.8 cm | 22"/55.9 cm | 24"/60.9 cm |
| Material | Carbon Steel | Carbon Steel | Carbon Steel | Carbon Steel | Carbon Steel |
| Tube Thickness | 0.0473" / 1.2 mm | 0.0473" / 1.2 mm | 0.0473" / 1.2 mm | 0.0473" / 1.2 mm | 0.0473" / 1.2 mm |
| Load Capacity(Each) | 220 lbs / 100 kg | 220 lbs / 100 kg | 220 lbs / 100 kg | 220 lbs / 100 kg | 220 lbs / 100 kg |
| Mounting Plate | 4.3x4.3" / 11x11 cm (L x W) | 4.3x4.3" / 11x11 cm (L x W) | 4.3x4.3" / 11x11 cm (L x W) | 4.3x4.3" / 11x11 cm (L x W) | 4.3x4.3" / 11x11 cm (L x W) |
| Product Weight(Each) | 0.88 lbs / 0.4 kg | 0.97 lbs / 0.44 kg | 1.05 lbs / 0.48 kg | 1.1 lbs / 0.51 kg | 1.2 lbs / 0.55 kg |
| Tube Diameter | 0.39" / 10 mm | 0.39" / 10 mm | 0.39" / 10 mm | 0.39" / 10 mm | 0.39" / 10 mm |
| | | | | | |
| --- | --- | --- | --- | --- | --- |
| | | | | | |
| | | | | | |
| Amount | 4 | 4 | 4 | 4 | 4 |
| Table Leg Height | 28"/71 cm | 30"/76.2 cm | 34"/86.3 cm | 36"/91.4 cm | 40"/101.6 cm |
| Material | Carbon Steel | Carbon Steel | Carbon Steel | Carbon Steel | Carbon Steel |
| Tube Thickness | 0.0473" / 1.2 mm | 0.0473" / 1.2 mm | 0.0473" / 1.2 mm | 0.0473" / 1.2 mm | 0.0473" / 1.2 mm |
| Load Capacity(Each) | 220 lbs / 100 kg | 220 lbs / 100 kg | 220 lbs / 100 kg | 220 lbs / 100 kg | 220 lbs / 100 kg |
| Mounting Plate | 4.3x4.3" / 11x11 cm (L x W) | 4.3x4.3" / 11x11 cm (L x W) | 4.3x4.3" / 11x11 cm (L x W) | 4.3x4.3" / 11x11 cm (L x W) | 4.3x4.3" / 11x11 cm (L x W) |
| Product Weight(Each) | 1.34 lbs / 0.61 kg | 1.43 lbs / 0.65 kg | 1.58 lbs / 0.72 kg | 1.65 lbs / 0.75 kg | 1.8 lbs / 0.82 kg |
| Tube Diameter | 0.39" / 10 mm | 0.39" / 10 mm | 0.39" / 10 mm | 0.39" / 10 mm | 0.39" / 10 mm |